I'm from a small town in Upstate New York that was recently featured in this article on the Huffington Post. Any time I see my hometown on anything (that isn't a breaking news story on CNN), I get pretty excited about it. It's a big deal.
My hometown, Pine Plains, NY, is a town that as of the last Census, had less than 2,500 people in it. I have friends that graduated from high schools with more students than that. It prides itself in its farm culture and on its beautiful nature. We're very proud of Stissing Mountain–so much so that our high school is named after it.
Our town has grown in the last decade or so to include what many call "Weekenders." There are other names that I have heard to describe the newcomers, but for purposes of clarity, I will use "Weekenders." The population of town comprised of these "Weekenders" has been growing at a relatively high rate. There are some residents who appreciate the influx of new faces, new money, but others have not taken kindly to the new additions.
In a conversation I had earlier today, it was brought to my attention that some of the "Weekenders" wonder why we don't accept them into our midst. There is a clear divide between the two and as I have made the transition into a more temporary resident status, I can see it even more clearly.
The article features the following quotation:
"In Pine Plains there is a line. On one side, the owners of Fortune 500 companies keep their ponies. On the other side, locals earn their livings slaughtering cows."
From what I have gathered from the connotation of this article, the locals are not seen by some "Weekenders" as more than farmers. Some believe we're "rednecks" or "hicks."
There are farms, there is the slaughterhouse which provides the local restaurants with much of its beef–which our town takes great pride in. (If you ever come here, make sure you try some of the Meiller sausage, I swear–it is some of the best you will ever eat.)
There are teachers, there are carpenters, there are police officers, state troopers, chefs, among other occupations residing in this little town. There may not be much in terms of industry. There is only one stoplight and one main county highway that runs through the center of town. If there is one thing we have, it would be pride.
I had the pleasure of returning home for Memorial Day. We host our annual parade that goes from the fire house, to the clock tower in the center of town, to the cemetery to honor the deceased, and back to the American Legion hall.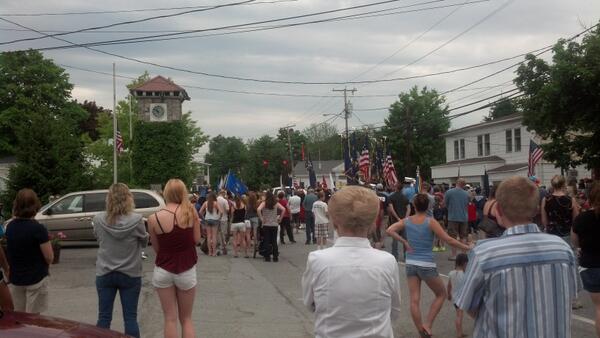 (Photo from twitter.com/jstapfinator)
I took this picture during the ceremony at the clock tower. This is where our keynote speaker–usually a veteran–gives his/her speech and there are flowers placed upon the memorial that my own uncle made. This year's keynote speaker was Dr. Martin Handler, current Superintendent of Schools, and former language instructor during the War in Vietnam. This town comes together at events like this.
There are the "Weekenders" with their "ponies" that play polo down on the fields of Mashomack, and then there are the locals with their boats on the lakes–Twin Island (affectionately known as Mud Pond), Stissing and Thompson Pond .

(Left: Twin Island; Middle: Stissing Lake; Right: Thompson Pond–Photo from http://stissingfiretower.org/id1.html)
This town may not seem like much to outsiders, but to those of us who have had the pleasure to grow up and live here, it's a pretty great place to be. I absolutely agree with the Huffington Post in its statement that Pine Plains is one of the most "underrated places in the United States."
As John Mellencamp put it, "I was born in a small town and I can breathe in a small town. Gonna die in this small town and that's probably where they'll bury me."